You wash your car regularly.
You clean your home.
You maintain your yard.
If something is valuable or meaningful, we want to take care of it and preserve it. The same goes for a cherished leather journal.
One of the unique advantages of leather is the way it only gets better and more distinct with time (when cared for properly).
If you enjoy the benefits of journaling and want to keep your custom leather journal in the best condition possible, we've put together the best tips on how to care for leather journals.
The Importance of Caring for Leather Journals
Leather fibres are susceptible to drying out over time. This can leave your custom leather journal or leather notebook cracked, brittle to the touch, and prone to further damage. Proper leather care will keep your leather notebook or journal supple, soft, and beautiful for years and years to come.
How to Care for Your Leather Journal Cover
Although small scuff marks or signs of wear on your leather journal cover add to its character over time, it is important to care for leather properly to keep it in good condition.
Here are care instructions for a leather journal cover to keep it beautiful for years to come:
Store it in a dust-free environment if possible
Use a non-abrasive dry cloth to remove any dust from the leather cover every week (dust build-up can become abrasive and cause damage over time)
Do not allow water to come in contact with your custom leather journal
Store your leather journal out of direct sunlight in a cool, dry location
Avoid the use of chemicals, harsh cleaners, or soaps as these will damage the leather's natural protective oils
Do not store your leather journal near a direct heat source, such as a fire or on a heater
Do not allow your leather journal to be exposed to anything that may damage it
Avoid leaving your leather journal in extreme heat
Be careful when transporting your leather journal
To remove dirt or stains, get a lint-free cloth wet, wring it out completely, and use it to gently buff the leather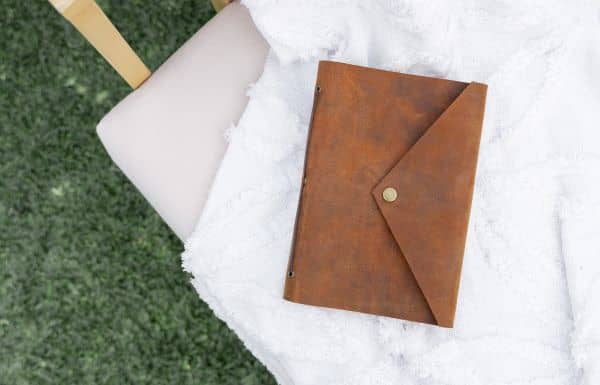 Can I Use Oils to Protect my Journal?
While certain oils can work well on polished leather, we do not recommend using oil on our leather journals. Since our leathers are buffed on the surface, applying oils is detrimental and can:
Completely change the look of the leather
Darken the leather
Make engravings almost disappear
Cause the leather to look patchy
Leave a greasy surface
More About Our Leather
We believe in sourcing the highest quality, most beautiful leather available for our custom leather journals and notebooks. We want each of our handcrafted leather goods to be as unique as you are.
The two types of leather we use are:
Crazy Horse – Combination of tanned Buffed bovine sides with a milled and wax finish creating an aged appearance. Crazy Horse gets a pull-up/ burnished effect when rubbed. Each piece of this leather is truly unique and almost like a piece of art.
Raw Cacao – Buffed, top grain bovine leather, with a nubuck finish. Over time, as this leather ages, it will become softer and develop a slightly velvety feel.
Leather is a natural product, meaning it is full of unique character. All of our leather is completely one-of-a-kind and will have natural characteristics and variations, including scars, scratches, growth marks, and brand marks.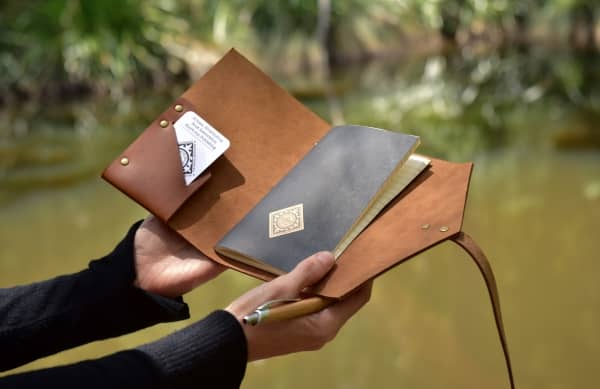 Learn More About Using and Caring for Your Handmade Leather Journal
Each of our custom leather journals is personalised, unique, made using the highest quality materials, and will continue to develop further character over time.
We are here to help you keep your leather journal looking its best, so please feel free to contact us if you have more questions on caring for your leather journal or would like personalised product recommendations. You can also check out our blog for helpful tips on how to start a journal and more.