Are you excited to begin journaling but aren't sure how to start? Daily journalling offers many benefits, but we know it can feel overwhelming to get started.
We've put together a beginner's guide to journalling, including realistic and practical tips, the best journal prompts, and what you need to start journaling. We'll help you turn journalling into a daily habit with these easy tips.
Reasons to Keep a Journal
Possible benefits of consistent journaling include:
Reduced stress
Improved mood
Immune system support
Increased connection with yourself
Improved mental health
Increased understanding of yourself
More organised thoughts
Increased clarity
A way to find inspiration
Improved writing skills
Improved memory and focus
Improved communication skills
The 10 Best Journalling Tips for Beginners
1. Keep It Simple
Are you intimidated by the thought of keeping a daily journal? Many people assume they are too busy, aren't a good enough writer, or won't stick with the habit – but you can!
The key is starting small, keeping it simple, and keeping realistic expectations. Trying to write for 30 minutes every day about specific topics can quickly become overwhelming and turn journaling into a chore.
To make journaling a daily habit you look forward to, try starting simple by:
Aiming to write 5 sentences a day for the first month about any topic of your choice
Setting a goal to a journal for 5 minutes a day (set a timer) for 30 days – you can always write more if you are having fun
Adding journalling to another daily habit you already have established (i.e. complete your journaling as you drink your morning coffee or as part of your bedtime routine)
Make a point to journal briefly every day and soon you'll find it is an automatic part of your routine. Most importantly, if you miss a day, don't worry about it. Simply start again the next day and keep working at it.
2. Make Journalling Work for You Even If You Are Busy
Feel like you're way too busy to journal? You can simplify it as much as needed.
If you can't imagine fitting another thing into your daily schedule, try the best types of journaling for busy people:
One Word Journalling – Yes, this one is as simple as it sounds. Start your daily journaling habit with One Word Journalling. Simply pick a single word that sums up the overall spirit of your day and you're done. This is an ideal type of journalling for especially busy individuals or anyone looking to easily turn journalling into a daily habit.
Stream of Consciousness Journaling – Set a timer and write for 1 minute, allowing your thoughts and feelings to flow freely and with no expectations or judgment.
Gratitude Journaling – Simply list 5 things you are grateful for that day.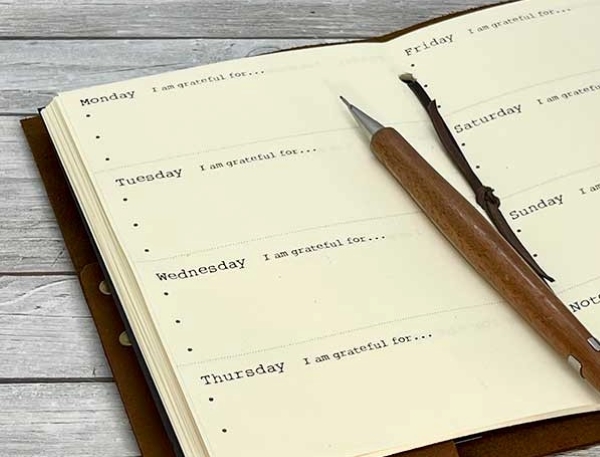 3. Find a Time That Works Best for You
When is the best time of day to write in a journal? The answer – whenever works best for you! Whether you write in the morning, afternoon, or before bed doesn't matter as long as you are consistent.
While some people enjoy writing right away in the morning when their thoughts are fresh, some individuals find it calming to reflect on their day and journal before bed. Experiment with journaling at different times of the day to find what works best for you and when your writing flows best.
4. Stick With It
If you only journal when you're in a good mood or feel like you have the time for it, it won't become a habit. Journaling through your ups and down can also be therapeutic and serve as an excellent tool for checking in with yourself.
Make a point to jot a few sentences down in your journal despite your mood. Miss a day of journaling? Don't beat yourself up over it – simply start again the next day.
5. Stuck? Write About Gratitude
If you are completely uninspired and stuck in your journalling, simply write down everything you are grateful for. Gratitude journaling is a powerful mood booster and may help get your creativity flowing again.
You can make gratitude journaling as simple as what's in front of you (your morning coffee) or about things you appreciate in your life (your partner, something about your job, your car, something about your body, a roof over your head – anything goes).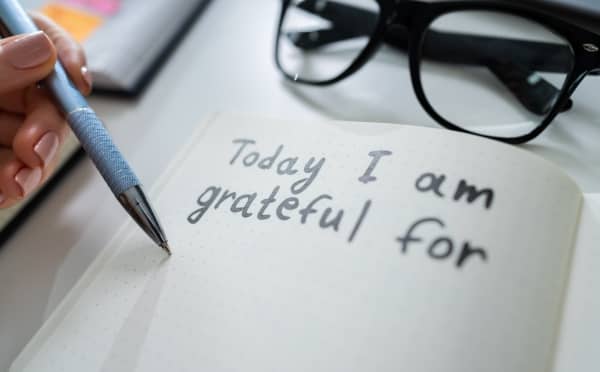 6. Try Switching Up Where You Write
Feeling uninspired and not sure how to use your journal? It might be time to switch up where you write. Try writing in different places, such as:
On a park bench
Sitting outside at a restaurant
On a picnic blanket on the grass
On a patio or balcony
Whatever place lets you feel relaxed and inspired
A different setting may help your thoughts flow freely and keep you excited about writing. As with everything when it comes to journaling, there is no right or wrong place to write.
7. Schedule Journalling Into Your Day
Aim to view journaling as an important part of your health and wellness, just like other healthy habits such as exercise or self-care. Schedule journaling into your day ensures you always have time set aside for it and helps reduce the chance of making excuses not to do it.
8. Find a Journalling Type You Love
The best way to make journaling a daily habit is to make it fun. Here are some fun personalised journal types to consider:
9. Don't Be Afraid to Get Messy
Messy handwriting.
Spelling errors.
Punctuation mistakes.
No worries. Journaling is about the process, not perfection. As long as you are getting your thoughts down on paper, don't worry if your handwriting is messy or if words are misspelled.
The most crucial part of journalling is getting your thoughts out and recording them. You can also scribble, doodle, and add little pictures – journaling is all about YOU.
10. Keep Your Journal Handy
Keeping your journal with you is an ideal way to fill unexpected wait times. Whether you are waiting for an appointment or stuck in a long line, having your journal with you is a great way to fill downtime.
Next time you find yourself bored, try reaching for your journal instead of scrolling through your smartphone.
What Are the Best Journal Prompts?
There will be days you just aren't sure what to journal about. This is where a list of journaling prompts comes in handy. Writing about a range of topics also helps keep journalling interesting.
Whether it's a topic or a specific question, keeping a list of journaling ideas ready will help you stick with it.
Here are some of the best journal prompts to keep in mind:
Write about what you did for the day
Write down 5 goals you want to achieve in the next 5 years
Write about something you are scared of
What are my ultimate dreams?
What do you want to accomplish tomorrow?
What brings me joy?
Describe a place where you felt happiest.
What is one thing I would like to change about myself?
What distractions get in the way of my productivity?
When do I feel most in tune with myself?
How would someone else describe me?
What is the one thing I am most grateful for right now?
What Do I Need to Start Journalling?
Investing in high-quality journalling materials can help you look forward to daily writing. Here are some of the supplies you need to start journaling:
Pen
Whiteout or correction tape
Coloured pens
A ruler
Scrapbook paper
Stickers or notebook charms
Highlighters or markers
Glue sticks
Stencils
Decorative paper clips
Sticky notes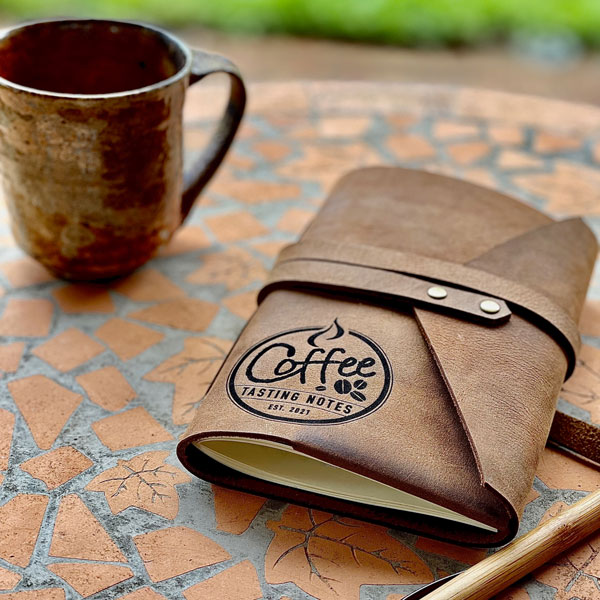 How To Choose A Journal
Our passion is helping our customers find meaning and fulfilment through journaling and we'd be happy to help you select the right journal for you.
Our masterfully crafted leather journals are handmade and strike the perfect balance between beauty and function. We invite you to reach out to us with any questions or for personalised recommendations.