Whether a wedding or dating anniversary, it's a significant milestone worth celebrating. Regardless of the length of your relationship, there is no doubt exchanging gifts with your partner is part of the occasion. It is a thoughtful way of saying "I love you," but why not amplify the message with something customised? If you're looking for the perfect personalised anniversary gift, we have the best suggestions for you to consider.
Timeless Tokens of Love: Personalised Gifts for Every Anniversary Milestone
What's a better way to express love and commemorate anniversaries than with personalised gifts? Custom-made presents are a heartfelt way of celebrating togetherness, signifying commitment through the invested time, effort, and thought put into selecting or making those gifts.
Giving personalised presents conjures a strong emotional connection between you and your loved one. Each relationship has its inside jokes and shared memories that are specific to its unique aspects. When you exchange gifts that are made by hand, it reminds both of you of your journey as lovers. And because there's a possibility that only you two know the meaning of the gifts, it shows the depth of your love and understanding of one another.
Whilst you surely value every gift you receive, especially from the one you love, there's always something more special about a personalised present. It's a cherished keepsake that can serve as a reminder of how your relationship matured as years passed and how time has helped strengthen your bond.
1st Anniversary Bliss: Custom Keepsakes to Mark Your First Year Together
The very first anniversary as a couple is always a big deal. It's a one-of-a-kind celebration and sets the tone for the subsequent anniversaries to come. That's why finding the right gift is essential in making this special day stand out. Here are some suitable gift ideas:
Something personal with a profound meaning, such as a photo book or a personalised object that represents your wedding day
A custom piece of artwork, such as a painting or framed print with your name, favourite quote, or wedding date
Engraved jewellery, such as a bracelet or necklace with your initials or wedding date
A love story book detailing your love story, from the time you laid eyes on each other to the day you said "I do"
A map art painted or printed with special dates, locations, and other specific details that play a part in your relationship
Home décor like throw pillows and blankets with a personal touch
Wine or champagne labels with a special message
A puzzle with a photo of you together
No matter how you spent your 365 days, you're most likely still basking in the glow of their newlywed bliss. Exchanging sweet first anniversary gifts is one way to put meaning into your beautiful relationship.
Leather Lovers: Personalised Gifts to Celebrate 3rd Anniversary
The first year is over, and you just went through two more years together. Life has ups and downs, but you two have proven that your love remains strong. There's only one material that best describes your journey: leather. A symbol of durability, toughness, and flexibility, leather does age wonderfully. It takes on a patina, retaining scars and scratches. But just like your relationship, it stands the test of time.
A personalised leather item with a monogram, a phrase, or hand-painted art is indeed a lovely present. The assortment of customised journals found here is perfect for your upcoming celebration, especially if your other half loves to write with actual pen and paper. The journals are not only beautiful and made of high-quality leather but also a practical gift that your loved one can use.
Here's an idea. You can write ways to mark your next marriage milestone every time you have a thought. That way, you do not forget, and you simply have to revisit your entries when it is time to commemorate your special day.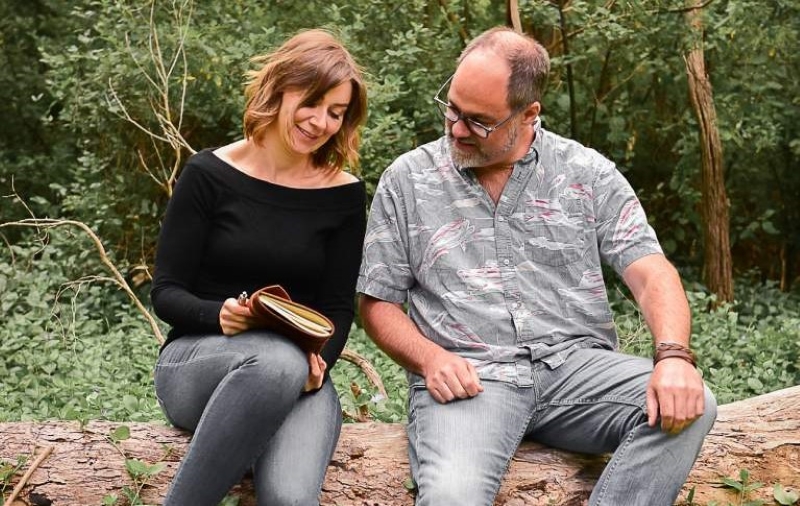 Golden Moments: Personalised Treasures for Your 50th Anniversary
They say that time flies when you're having fun, but it soars with an even faster grace when you're in love. Sharing years filled with memorable moments is not enough when you are sharing it with your partner. How about expressing your feelings and emotions through a golden gift that honours your half a century of being together?
Gold is the symbol of a relationship that has lasted for five decades. Your enduring love and commitment continue to shine and glow brighter, just like gold. Not everyone reaches this milestone, which is why it demands a valuable gift: gold, the most precious metal on Earth. Here are some 50th-anniversary gift ideas to consider:
Personalised gold jewellery, such as a ring, necklace, bracelet, or even earrings
Gold photo frame customised with your name and anniversary date engraved at the sides or back
Golden photo album with all the memories on each page to showcase your love-filled journey together
Gold-plated cutlery or tableware with or without engravings of your initials or names
A keepsake box glittering in gold ornaments where you store letters, mementos, and other treasures
Customised clock or watch with an engraving at the back for a timeless gift
Any couple celebrating their 50th year of wedded bliss deserves one of the biggest and warmest congratulations. This remarkable celebration requires plenty of thought to find the best anniversary gift to mark the occasion. Pick one (or two) from the above, and let's hope to reach another milestone.
Whether you're shopping for your husband or wife, your parents, friends, or your favourite couple, always take the time to consider their likes and dislikes. Pause and reflect on the recipient's preferences and interests to come up with an even more impactful gift.
For example, if they love to write or prefer to have their adventures organised, a personalised journal is one of the most thoughtful and meaningful gifts you can choose. It hits the two most important aspects of gift-giving: personalisation and something valuable to the recipient. Shop for a journal at Something For Keeps and celebrate your anniversary with a custom, handmade journal that symbolises your love for each other.