Embarking on a journey is more than just visiting exciting places; it's about creating memories that can last a lifetime. It's an opportunity to embrace new cultures and for you to immerse yourself in memorable experiences. Whilst you can capture photographs to remind you of your voyages, there is something about using words to bring your previous adventures back to life. That's the magic of travel journaling.
Capturing Memories: The Art of Travel Journaling
If you're searching for a fun, artistic way to record the sights, smells, sounds, and tastes of experiences as you explore more of the world, try travel journaling. It's a powerful tool to capture memories, allowing you to preserve them in great detail, including your thoughts and feelings during travels. Writing down your experience gives you a vivid snapshot of a particular moment. You get to go back in time, tapping into your senses whenever you read your journal entries.
But how do you begin? It all starts with the right journal – the best one that fits your travels and preferences. Whilst you can go for a digital journal, nothing beats the timeless combination of a pen and a personalised travel journal. We have a perfect size for adventurers, with no added bulk and 100 pages of cream-coloured 80gsm paper.
With the journal ready, don't forget to collect your pens, markers, pencils, and erasers. You can even incorporate art into your journal using tools like washi tapes, stationery, and stickers. Since you will take these items when you travel, it's best to keep them portable and packed properly.
Beyond Words: Incorporating Visual Elements into Your Travel Journal
Your journal is not just for writing with words. You can also document your experience through sketches, collages, stickers, and intricate letterings. And here's the good news: you don't need to be an experienced artist to preserve memories of landmarks and other sights you encounter. Your drawings can simply consist of basic shapes. After all, the goal is not about achieving perfection but capturing the key features of exquisite attractions instead.
As you advance and continue journalling, you will find that other supplies work better in jotting down memorable experiences. Make sure to experiment with watercolours to help add vibrancy to your sketches and collages of brochures, postcards, and maps for elevating creativity. Washi tapes, rubber stamps, and stickers also enhance the visual flair of your travel journal. Try learning different lettering styles and fonts, along with borders and frames, to make your journal even more interesting.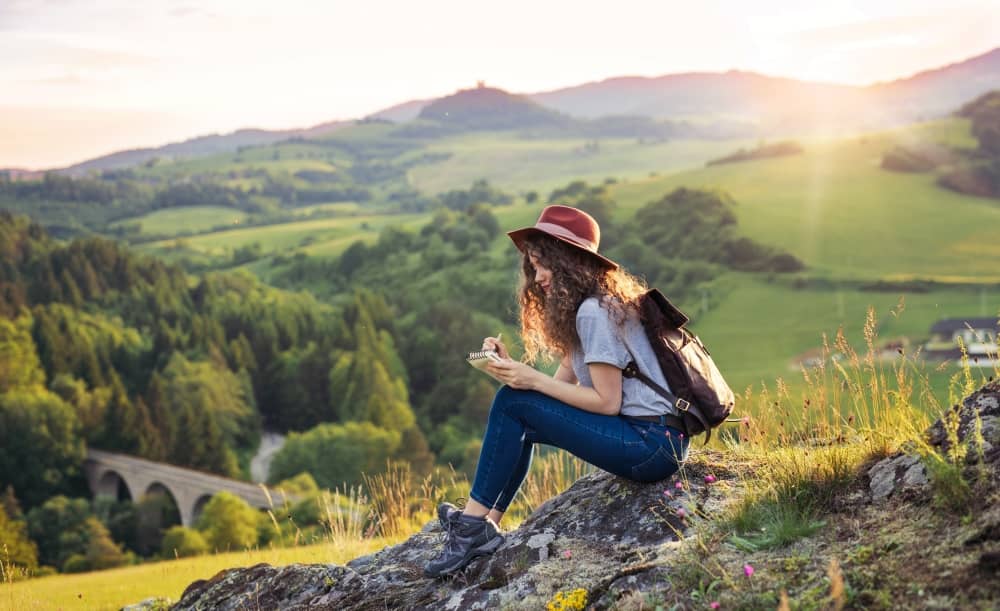 Organising Your Thoughts: Structuring Your Travel Journal
Having a structure in your travel journal allows you to maintain easy-to-follow entries. It's quicker to find specific entries and revisit special moments when you categorise or arrange your entries in a way that makes sense to you. Here are some options for travel journal structure:
When you write down your experiences, you typically start from the beginning of your trip, documenting the following days, particularly significant events, in chronological order. This structure is the most common, as it is the easiest to follow when tracking your journey's progression.
You can use a location-based structure if you plan to visit several destinations. Have a few sections for each place, and remember to include a quick overview, your list of activities, and other memorable moments.
Are you visiting a place to experience the local food or its culture? How about specific interests, such as nature exploration or fishing expeditions? Whatever it is, you can section your journal based on a theme. And if you like a dedicated journal for your favourite activities, shop for the suitable one here.
Create visual storyboards, combining texts, sketches, and printed photos of your journey.
Another way is to highlight significant moments, which is the perfect structure for those aiming for a more condensed travel journal.
If you're travelling with other people, consider collaborating with them in your journal entries. It's a great way to have various perspectives of the journey, encouraging your travel companions to sketch, add visual elements, and share their thoughts and feelings.
Writing with Purpose: Prompts and Reflections for Your Travel Journal
Travel journaling offers you the chance to delve into your emotions as you explore unfamiliar territories and encounter new cultures. You can create a more introspective narrative of your voyages with these suggested journaling prompts:
Describe a cultural tradition that impacted you.
Write down a conversation that left a lasting impression.
Talk about challenges and lessons you have learned during your trip.
Did you step out of your comfort zone?
List the things you are grateful for as you complete your journey.
We encourage you to use your journal to make profound discoveries, not just locations and landscapes but your inner self.
Exploring Different Styles of Travel Journaling
The beauty of travel journaling is that you can write whenever and however you like. It all depends on your preferences and how you want to express yourself. Here are some prominent options:
If you prefer writing as if you're telling a story, the best style for you is narrative journaling. Use the chronological order of structuring events, describing encounters in the order they unfolded.
The popularity of bullet journaling has increased in recent years as it is a great way for new and experienced journaling enthusiasts to articulate their adventures. This style combines text and visuals to create an organised journal, highlighting key moments through trackers, lists, and sectioning for a more appealing travel journal.
Visual journaling is certainly for you if you love to draw and use colourful supplies. Express yourself and show cultural and emotional elements in the most artistic way possible using coloured pens, pencils, stickers, and more.
Try scrapbooking if you love collecting photographs and mementos. Write minimal captions while adding decorative embellishments to make the journal as visually appealing as possible.
There's no limit to the structure and style you choose in journalling. You can always mix and match the types above to suit your preferences.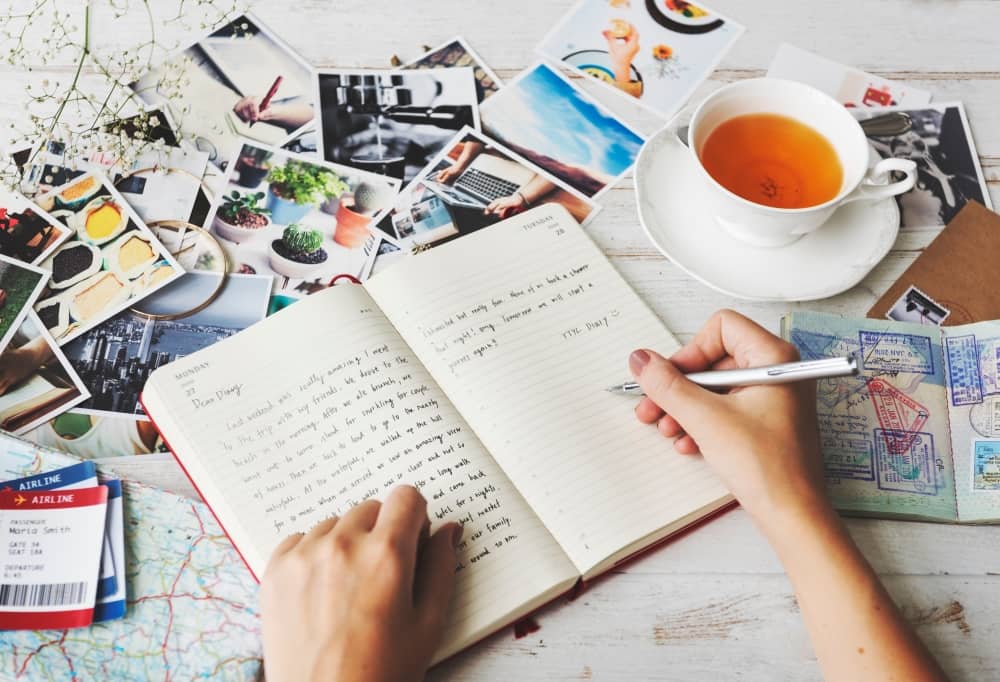 Preserving Mementos: Incorporating Keepsakes into Your Travel Journal
As travel journaling is mostly about capturing memories and bringing them to life, you want to store mementos for as long as you can. If you have ticket stubs, maps, postcards, and other flat items, use glue sticks or similar adhesives, such as washi tapes, to secure them to your journal.
Some items may require additional security, such as coins and similar memorabilia. You can attach envelopes or create pockets inside the journal to hold them in place. A binder clip is also a good option for thicker items like fabric swatches and polaroids. If you truly wish to keep the items safe, especially delicate ones, the best way is to laminate them before you attach them to your journal.
Sharing Your Journey: Turning Your Travel Journal into a Personalised Travel Guide
Let's be honest. One of the hardest parts about coming home after travelling is having to answer, "How was your trip?" Sometimes words are not enough to express how eye-opening your adventure was. Thankfully, you have your travel journal to back you up.
Even better, you can turn your travel journal into your very own travel guide. Attaching souvenirs and preserving mementos can help create a tangible connection between your adventures and memories. Use the tips above when securing and storing keepsakes. Ensure you use protective measures, such as lamination, to help make them last longer. Don't forget to add annotations like descriptions and dates next to the souvenirs, allowing you to get context when you look back on them in the future.
With everything you have written and attached to your travel journal, it can become your go-to resource for your next trip. Share it with your friends or online if you so wish to inspire others in their travel adventures.