There are so many reasons to start journaling. You get a private space to explore your thoughts and feelings, an excellent means for processing confusing and challenging emotions to help reduce stress or anxiety. It can also be used for goal planning so that you can keep track of your progress. For some people, journals remind them about important dates and events the old-fashioned way.
At Something For Keeps, our journals are more than just empty pages waiting to be filled. Each is crafted by hand with deliberate care to suit a diverse range of interests, passions, and aspirations. Whether you are a creative mind looking for blank pages to share your imagination or simply seeking an outlet to talk about your daily life, we have a journal that's right for you.
Personalised Journal A5 Snap
Our popular personalised journal A5 snap comes with an A5 paper size that measures 22 x 15 cm (8.5 x 6 in). Avid writers prefer this journal because of its portable dimensions, which means you can take your journal anywhere you go.
A5 is quite versatile, which is why it is commonly used for planners and notebooks, among others. It's half the size of an A4 but still has enough space for writing and some doodling. Plus, with a snap closure, you can be sure it's securely closed. It is useful if you like to add some elements like photos, bookmarks, or stationery.
This journal already comes with two 100-page journal inserts, which can also be replaced with new ones once you run out. If personalisation is your thing, you can request up to four engravings for a small fee.
If you're interested, you can find this bestseller here.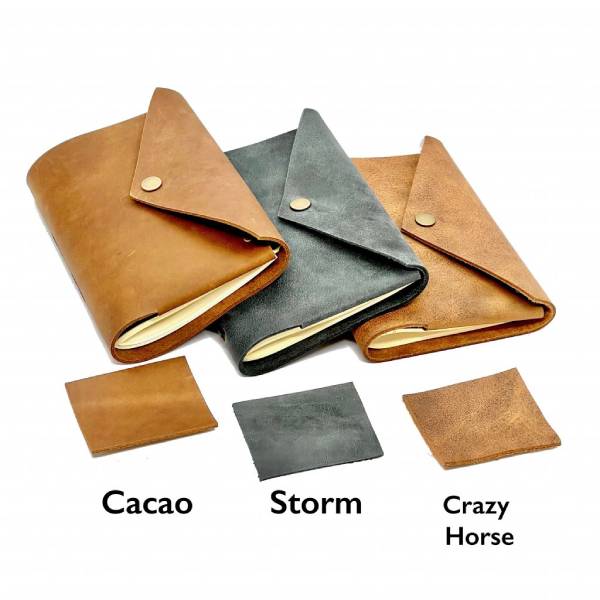 Personalised Travel Journal
You don't have to be a frequent traveller to have a travel journal. A personalised travel journal will benefit you regardless of your trip's purpose, experience, or destination. That's why it's one of our top-rated products.
Tourists, holidaymakers, backpackers, and adventurers love our leather travel diary. It's handmade with a laser-engraved compass design that is resistant to fading. You can add your engravings, as well. Because it is refillable, our 18 x 12 cm journal is designed to be used over and over. It's a sustainable option since you do not have to buy a new journal every time you run out of pages.
Shop for this best-selling journal here. It's the perfect gift for yourself or any loved one who loves going on an adventure.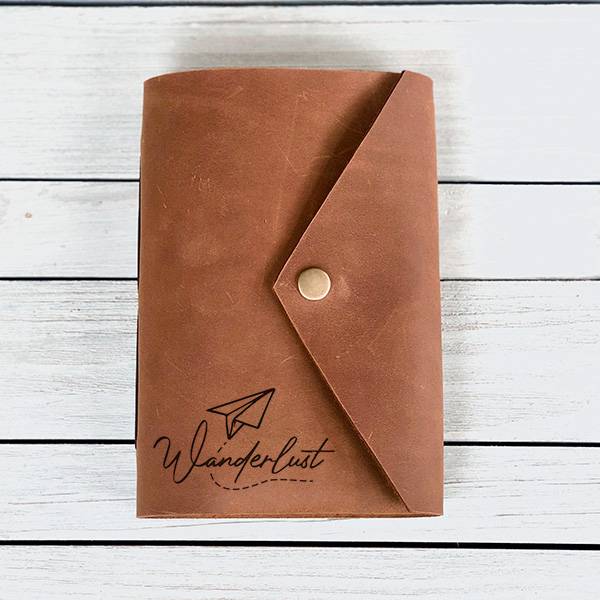 Personalised Journal Pocket Snap
Here's another custom-made journal where you can write your thoughts, emotions, observations, and anything in between. You can get a lined journal, which is great for writing in organised paragraphs and straight lines. We also offer the journal with blank pages, giving you the creative freedom to use various forms of expression, including adding photos, stickers, and drawings. Our pocket journal also comes in a grid-style format, which strikes a balance between blank and lined pages. It's excellent for both writing and sketching.
Just like our other products, you can add your custom engravings to this journal, making it a wonderful gift, as well. We have also added a small pocket on the inside of the front cover.
Get your personalised journal pocket snap today. It has a snap closure to keep your journal closed and secure when not in use.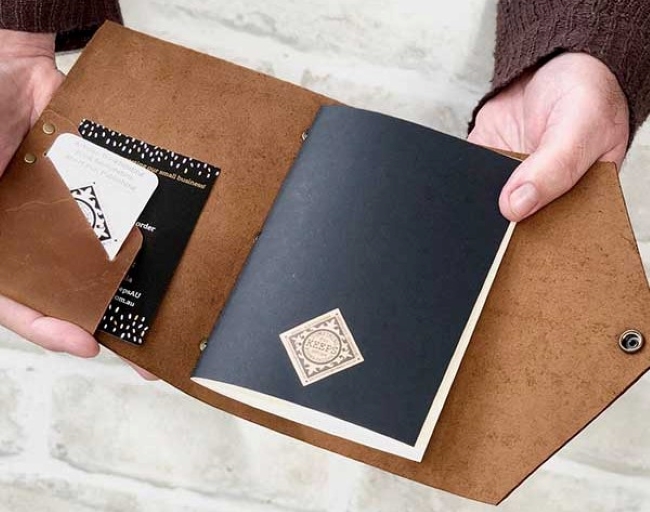 Personalised Journal Pocket Wrap
Introducing another customer favourite: our personalised pocket journal featuring a wraparound enclosure. This journal can be tailored to your preferences, accommodating up to five engravings.
Crafted from durable leather, this journal is built to withstand the test of time. Renowned for its robustness, leather guarantees resistance against wear and tear, even during daily use on your journeys or for various purposes.
Moreover, leather boasts inherent allure, lending an air of sophistication and maturing gracefully over time. It also has a nice feel, so your journal is comfortable to hold and touch. We have a few choices of leather finish, which you can select before you order here.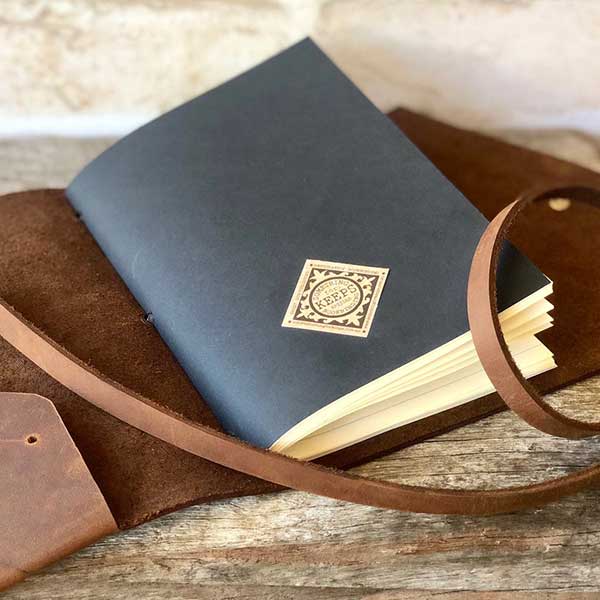 If your creative musings demand more room, worry not – additional refills are available on our website, new refills.
Corporate Gifts
Personalised handmade leather journals from Something For Keeps are thoughtful corporate gifts. They're suitable for different recipients, such as employees, colleagues, and valued clients. Our journals are a huge hit no matter the occasion, from showing appreciation and gratitude to your hardworking employees to celebrating milestones such as company anniversaries.
Journals are universally accepted, so you can also give them to your customers and business partners. Since the journals are customisable with your company's logo, name, or even your tagline, they serve as both a present and a promotional item. You can order them here.
Handmade with the finest leather in Australia and New Zealand, you can count on our journals to last for a long time. The recipients get a practical item for taking notes and writing their ideas on quality paper that constantly reminds them of your company. This strategy works well in fostering brand loyalty. Plus, you get a cost-effective gift that has a high perceived value. Paper inserts and packaging are eco-friendly and responsibly sourced, so you can give our journals to individuals with a strong environmental commitment.
Our personalised journals are for everyone, whether you or the recipient is embarking on a journey of self-reflection, looking for an outlet to jot down their thoughts, or requiring them to express themselves creatively. Shop our best-selling journals today!