Giving gifts is more than exchanging tangible objects; it's an art where you look for a present that's valuable to the recipient. That is what makes gifting quite tricky, and this is especially true when gifting a gamer. It becomes an even bigger challenge when you're not a gamer yourself.
However, finding a gift for the gaming enthusiast in your life can be fun and rewarding, too. Sure, you can give them the hottest game titles, gaming gear, or accessories. But if you want something unique, we have cool ideas for you.
Gifts for Your Gamer Friends and Family Members
If the recipient loves tabletop role-playing games, including the eternally popular Dungeons & Dragons, we have the following recommendations for you:
1. RPG Journals
Dungeons & Dragons and Pathfinder gamers will surely appreciate your RPG gaming journal. This journal is quite interesting as it can be used in a variety of ways. They can jot down their characters' progress and record any captivating adventure they had on a particular day.
The journal can also be used to simply take notes on specific nonplayer characters (NPCs). It's also useful for writing down locations and events that took place during gameplay.
Other people who will love an RPG journal as a gift include:
Dungeon Masters: This type of gamer also calls themselves game masters (GMs). They are people who run the game world and provide guidance to other players as they go on their adventures. Dungeon masters can use the journal to plan and organise campaigns, story arcs, and other encounters, along with world-building elements, including NPCs, factions, and maps.
RPG Enthusiasts: Some people don't really play a lot and therefore don't consider themselves gamers. However, they study and analyse RPG systems, the all-important lore, and unbendable game mechanics. Gifting a role-playing gaming enthusiast with an RPG journal will allow them to document their observations, ideas, and thoughts relating to the specific game they are studying or leisurely playing.
Writers: Some individuals like creating fictional worlds where their story is built around. It can be for their enjoyment, or they may want to share these stories with other people. Regardless of the reason, they will need a journal for brainstorming and fleshing out new ideas.
An RPG journal is certainly the best gift you can give to people who love both gaming and writing with a pen and paper. And even if they may not like writing too much, the journal is a great tool for keeping their ideas organised and accessible in one place.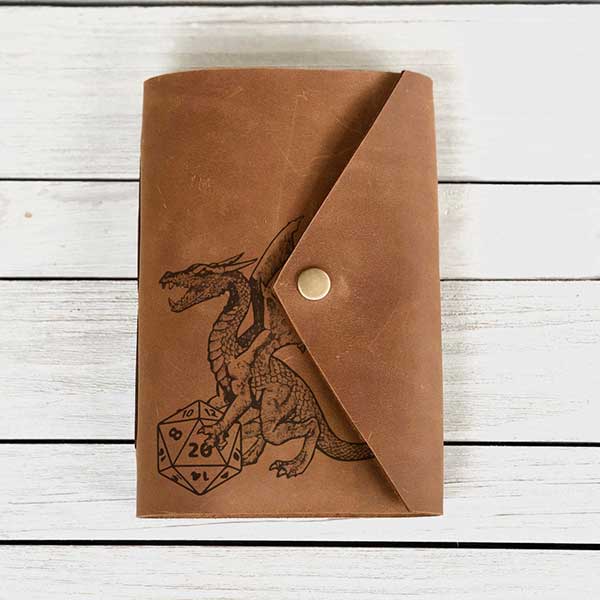 2. Board Games Scorebooks
Are you looking for a gift for a friend or family member who loves board games? Here's one we recommend: a board game scorebook. During game nights, they may need a piece of paper where they can keep track of their scores. So why not give them a scorebook intended to record their progress or performance across several sessions? A scorebook is also an excellent gift idea for:
Board Game Clubs: Are you a part of a community that regularly gathers to play board games? You can offer this scorebook that you can use together to document the club's game sessions. It is a simple yet fun way to not only track scores but also see player rankings.
Families and Friends: If you have a traditional game night with your loved ones, a scorebook makes everything recording of games, scores, and fun moments trouble-free.
Game Designers: If you know someone who designs or develops board games, now is the chance to impress them with a well-made personalised board games scorebook. They can use it to jot down their playtesting results, feedback, and other modifications made to the game mechanics.
Board games scorebooks are pretty straightforward but flexible, as well. Anyone who loves board games will surely appreciate their use in compiling scores and experiences on memorable game nights.
3. Accessories
Complement the D&D journals or scorebooks with a dice tray and a dice bag. A dice tray, such as our beautifully handcrafted Dice Tray for Dungeons & Dragons, is designed to give a rolling surface for dice used in board games. If the recipient often plays as a Game/Dungeon Master or loves other D&D alternatives, such as Pathfinder, Shadowrun, Call of Cthulhu, or World of Darkness, this dice tray is undoubtedly a must-have.
Don't forget to add a gaming dice bag, such as our stunning leather DnD Dice Bag. It's a handmade pouch where the player can store and transport dice used in D&D or other similar games. Dice bags are functional as well as stylish. Even better, you can personalise your present with the recipient's name or your 80-character message, elevating it to the next level.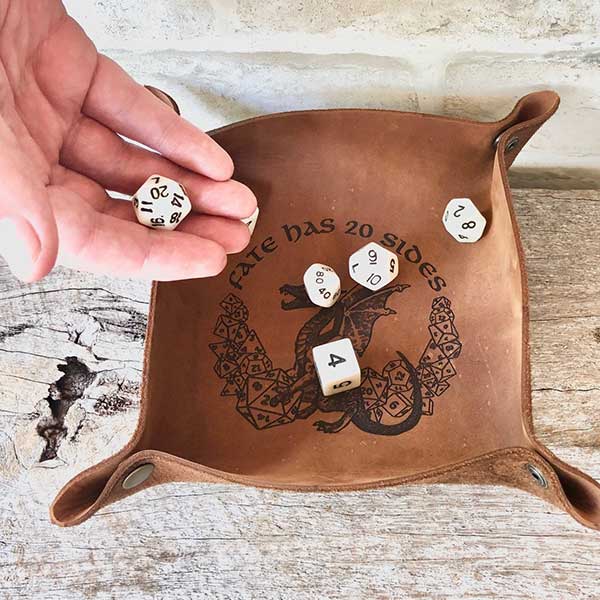 Other Reasons to Gift Game Journals and Scorebooks
Game journals are the ultimate game experience enhancer. They not only help the user stay organised and track their performance but also record memorable moments and keys to gameplay. Here are more reasons why game journals and scorebooks are wonderful gifts for gamers:
Make family game nights more popular. It's more enjoyable to play with your family and friends when you can keep track of your scores. You can continue where you left off on the next game night, making it more competitive.
Spend more time playing games with loved ones. Game nights strengthen bonds whilst promoting personal growth. You communicate with the people in your life, allowing you to express your emotions healthily. Plus, you can develop and enhance your skills as you relieve yourself from stress when you engage in a fun activity with the people you love.
You have more screen-free entertainment. When was the last time you put your phone down? Instead of playing on your smartphone or scrolling through your social media feed, take the time to enjoy face-to-face interaction with your family and friends.
Game journals are great for everyone. Whether the recipient is a D&D fan or a casual player, game journals are a wonderful gift. Scorebooks are also an excellent choice for those who play board games but don't want to buy the actual game.
Whether you buy a game journal or a board game scorebook (or both), consider first the recipient's hobbies and interests. And don't forget to personalise your gift to make it more meaningful and special.
Luckily, you have everything you need here at Something For Keeps. We have dice bags, trays, journals, and scorebooks for that gamer in your life. Plus, we can customise your present with engravings to add a personal touch and emotional value. Order a gift for your game-loving family or friend from us today!