Do you love taste-testing anything from coffee to chocolates? Why not take notes to describe the aroma, taste, texture, and character of the food or drink you're trying? That's where tasting notes come in, and there's nothing better to write them on than a quality tasting journal.
If you are looking to buy a tasting journal for your friend, loved one, or even yourself, here's a quick gift guide that will help you sort out your options:
For Beer Buffs
Although apps are abundant for beer journaling, the simple activity of putting pen to paper still feels unmatched. You'll likely agree with that sentiment if you're a beer buff. That's why a beer journal is an excellent option.
Perhaps you're looking for something special for your beer-loving brother or friend, or you are a home brewer. Whatever the reason may be, a new beer journal will meet your needs.
One of the things you will need is a solid notebook. It should be sturdy, mainly because the owner will take it with them on their beer-tasting journeys. The beer journals also have ready to fill in beer review pages as well as the option to have blank or lined if preferred.
A beer buff's notebook has to have pages where you can quickly write notes or provide descriptions and ratings for the product. We recommend a minimum of 70gsm, which means the paper is made with superior wood fibre. You will not usually require a ton of pages, but it is always a huge plus if you can find an easily refillable beer journal.
Where can you buy the best beer-tasting notes journal? Head here to check out our personalised refillable beer journal. You can add up to four engravings, along with the already present laser engraving we originally designed.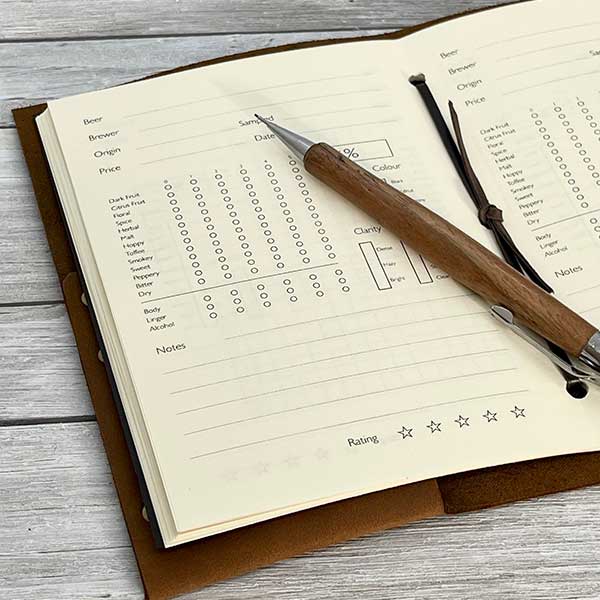 For Chocolate Lovers
Some chocolates can capture your heart because of their exquisite taste and texture. They may not touch your memory, though, and that's unfortunate. Have you ever found yourself wondering what that chocolate was that you tasted several months ago? Now that you want to come back and have the pleasure of tasting it again, you cannot seem to recall what it was and where you can find it.
Here's the solution for chocolate lovers like you: a chocolate-tasting journal. It's so much easier when you have to refer to only one source. Just flip the pages and look at your notes that detail the name of the chocolate and the chocolatier. With the information presented, you can use your notes as a buying guide, too.
Check out our personalised chocolate journal with a laser-engraved design and an option to add up to four more engravings. With 80gsm paper, you can write notes on the chocolates you have just tasted. We have included pages where you can check a few boxes and enter basic facts about your bar. After all, it's tough to hold a pen and journal while enjoying a flavourful chocolate bar.
This journal is created especially for every chocoholic. The pre-written pages are easy to use, allowing you to use all five senses to test and taste at your leisure. Look, touch, listen, smell, and taste – great chocolates are not just enjoyed but experienced.
For Coffee Aficionados
Are you addicted to coffee? Don't feel guilty. According to statistics, three-quarters of American adults describe themselves as coffee aficionados. Meanwhile, three out of four Aussies enjoy at least one cup of Joe per day.
Suppose you are up for a wonderful adventure of tasting popular brands and craft coffee. Why not record and track that experience? You want your coffee journal to conveniently fit in your pocket or a small bag. It doesn't have to be a huge notebook, though, since no one wants to carry that along when holding their favourite brewed coffee.
Pick a journal that helps you recall the coffee's unique flavour by glancing at the pages. Even after a long time of consumption, you should still be able to remember the drink. Guided entries make it easier to tick the boxes, so you can kick back and relax whilst taking a sip.
With all those requirements, you may think it's difficult to find a coffee-tasting journal. But it's not. We've got it right here for you. Check out our personalised journal for coffee aficionados like you. It has 100 cream-coloured pages to write down your coffee experience, from the taste to aroma to your rating of the beverage.
Your journal has an internal pocket, along with a card slot and a closure that can either be a leather wrap-around or a brass press stud. Once you have had your fill of coffee taste-testing sessions, you can simply remove the old pages and replace them with a new book block. Easy, smooth, and an instant classic – just how you want your coffee to be.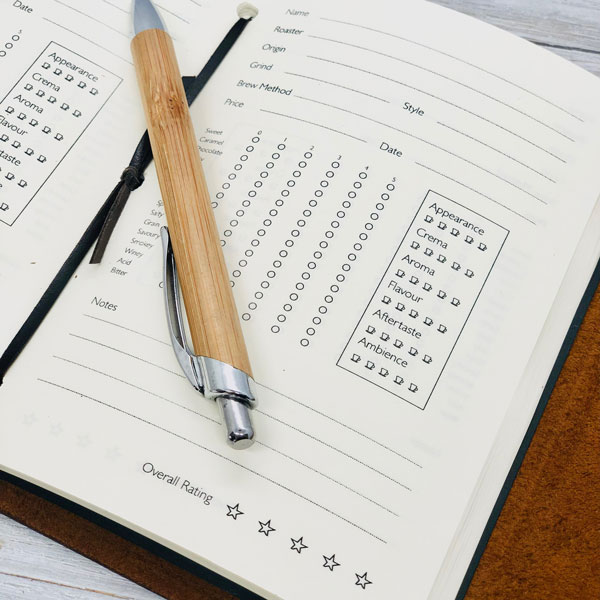 For Whiskey Nerds
Whether you are a serious whiskey drinker or like to dabble in the beverage every once in a while, it's always nice to keep track of your experience. A whiskey diary is exactly what you need for your next tasting adventure. For your upcoming get-together, just refer to your whiskey journal so you can prepare the best-tasting drink for you and your buddies.
A whiskey journal is the easiest way to take note of your tasting experience. That should be as simple as checking boxes on each bespoke printed page, making it straightforward when you're out and about. You can describe the flavour and aroma in your journal as you drink. For example, dark fruity flavours imply a cherry taste, meaning the whisky is either sweet or a little tart. Citrus taste, especially orange, is common in whiskies, so it's easy to detect and record this note.
It's always fun when the journal is customised for the receiver. We recommend that you pick a notebook that lets you add a personal touch, such as a logo embossed to the back or front cover and the name of the recipient.
Whichever way you prefer to spell it – with an e or without – we have the whisky notebook for you. A personalised whisky journal is a great gift for every whiskey nerd or occasional drinker. With a hundred pages, there is more than enough room for detailed notes. Even when you have completely used up the whole notebook, it's easy to replace them with new ones.
Design the journal with a quote, the recipient's name, or a brand. This personalised journal is the perfect gift for your friend or colleague who loves whiskey.
For Wine Enthusiasts
There's a reason why note-taking is both an art and a science. This activity, as simple as it may be, can keep you alert and engage your mind whilst forcing you to focus and pay attention. That's why many wine enthusiasts chart their course through the enchanting world of wines by writing down every unique experience.
Wines have specific characteristics, from the aroma to the flavour. It can be challenging to remember all those notes, so what better way to be reminded than by reading through your own experience? Now it's easier to fine-tune your wine sense with a guided notebook. A wine journal helps you jot down information as concisely as possible. Each page comes with details that let you rate wines. It's an interactive way to judge wine flavour, smell, and character.
We have just the right journal for you. Our personalised handmade leather wine journal comes with an engraved "wine notes" design. If you're planning to give it as a gift, why not add some more engravings? We accept up to four additional engravings and all of which are customised according to your preference. With a total of 100 pages, you can take note of up to 50 different types of wine.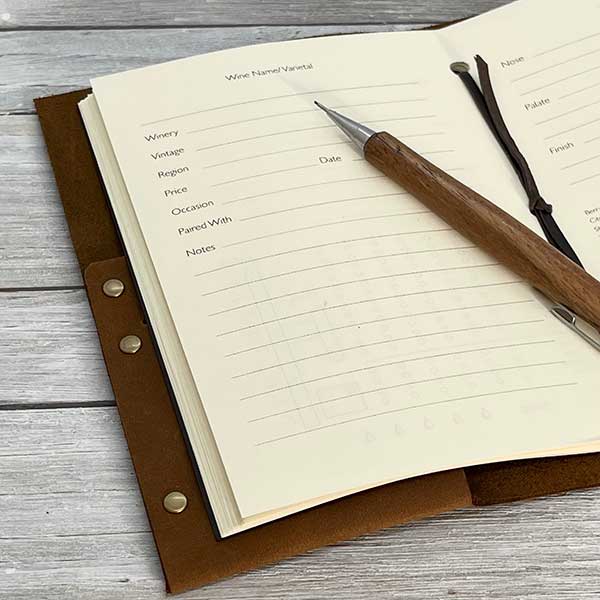 It sure is fun to look back at the chocolates, coffee, wine, whisky, or beer you have tried. Pick the right journal that matches your favourite drink from Something for Keeps today!