Our passion for high-quality leather and personalised journals is obvious, but there is something we love even more: Our customers!
We are deeply grateful for our customers, including the positive feedback and testimonials they have given us since our inception.
Along with our commitment to only using the highest quality materials, we are also 100% dedicated to delivering unmatched customer service. We want every customer we work with to have a positive experience that makes us their #1 choice for personalised leather journals.
Read on to hear from our happy customers about our products, some of their favourite journals, and why our customers keep coming back to us for all their journalling needs.
Our Customer Testimonials
We love hearing feedback from our customers about our journals. It is our absolute joy to make our customer's ideas come to life and to provide them with a luxury, high-quality journal to safely store their ideas, memories, and entries.
Here are some of our favourite customer reviews:
"Their work is exquisite!! Delivery is fast, and service is exceptional. I am more than happy with my purchase. I spent years looking for something like this, and they have exceeded all my expectations. Thanks, guys." – Tyla
"Beautiful journal. Was a gift for my son, he plays dnd. To say he loved it is an understatement. Packaged lovely. You can see the care and love put into it and it was received the same way. Would highly recommend buying." – Tara
"What a gorgeous, masterfully crafted piece I can't put down or stop looking at. Beautifully bound, riveted and detailed delicately with my initials on the inside pocket and the bee on the cover. I can't recommend this purchase or the sellers enough! I can't wait to keep filling it and showing others. Well worth the wait for its long journey and will be a treasured piece I'll use for many years." – Jonathan
"This is my second purchase from Something For Keeps and I think they are amazing! Both journals have had my own artwork engraved on them and Paula and Marcus have been accommodating and helpful every step of the way. Want something special? Look no further!" – Shelkie2
"Honestly, its amazing quality and arrived on time, i bought one as a gift for my girlfriend and she cried when she saw it, saying "its beautiful" i would 100% recommend this to others and i'll 100% be buying again in the future, and thankyou for the personalized note and awesome gift wrapping Paula and Marcus, couldn't ask for better quality or service." – ShatterYaBoi
"A big big thank you for the beautiful personalised Journal you created for our daughter's gift. It was made and shipped incredibly fast arriving in time for a very special event, and it was just gorgeous! Thank you so much for such wonderful products and service." – Jana
"I ordered an A5 wrap journal as an early birthday present for my partner; the quality of the product is well worth the price! We're both very happy with this 🙂 Also, my order was packed, sent and arrived within the same week!" – Cadence
About Our Leather Journals
Whether you are looking for a gift your loved one will cherish forever, a fun hobby journal, a corporate gift, or a handmade journal for yourself, we have the ideal journal for every occasion, milestone, hobby, or event.
With an extensive range of customisation options, we create handmade journals from scratch that are as unique as you are.
We use local leather and the highest quality materials to handicraft every journal with love, right inside our Margaret River bindery studio. Every journal we make strikes the ideal balance between beauty and function.
At Something for Keeps, we provide easy ordering, gift-wrapping, fast shipping, a wide range of personalisation options (closure, engraving, inserts, etc.), and your choice of genuine Australian or New Zealand leather in three finishes:
Raw Cacao – A stunning, buffed nubuck finish featuring a subtle velvety feel and a surface that gets more beautiful with age
Storm – A genuine Australian leather with a stunning yet rustic finish and a moody, rich stormy grey colour
Crazy Horse – A unique buffed leather with a matte, rustic finish that creates a gorgeous aged appearance
Many of our customers have provided positive feedback and remarks about our journals and customer service, including:
Great personalised service
Gorgeous quality products
AWESOME!
The quality is second to none
Fast shipping and delivery
Lovingly presented
One-of-a-kind gift
To shop our bestselling leather journals, check out our range of personalised leather journals here.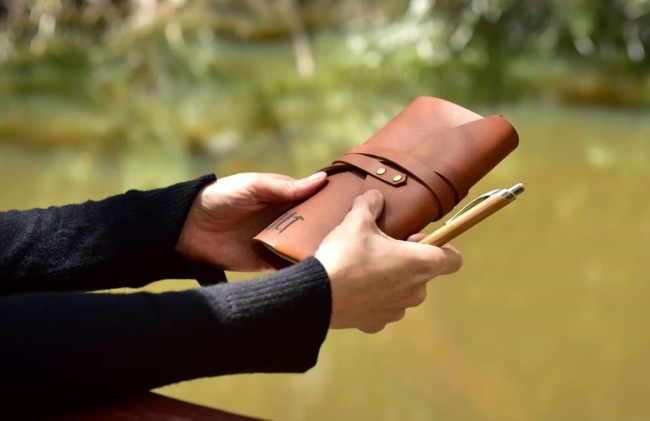 A Warm 'Thank You' from the Something for Keeps Team
We want to express our deepest thanks to all of our valued customers! We are so glad you are enjoying your personalised leather journals.
Thank you to all our customers for being a part of our journaling family. We are honoured to provide you with personalised leather journals and caring customer service.
Our goal is to create journals that add "sentimental value and bring happiness into our customers' lives."
If you have any questions or want to order a personalised journal, please don't hesitate to contact us. We would love to hear from you and find out how we can create the ideal journal for you or your loved one.
We look forward to many more years of crafting the finest customised journals in Australia!
Best Wishes,
Paula and Marcus (The Something for Keeps Team)