A leather journal can be a cherished keepsake, the perfect place to organise your thoughts or a meaningful gift. With countless styles, options, and personalisation choices, you can find a leather journal as unique as you.
Here's our guide to choosing a leather journal for yourself or a loved one.
Advantages of Leather Journals
You may be wondering, "Why choose leather for my journal?" Leather is a high-quality material with many benefits, including:
Luxurious feel
The sophisticated, classic appearance
Durable and long-lasting
Low maintenance (Check out our Guide to Caring for Your Leather Journal)
Full of character
Can look better with time
Unique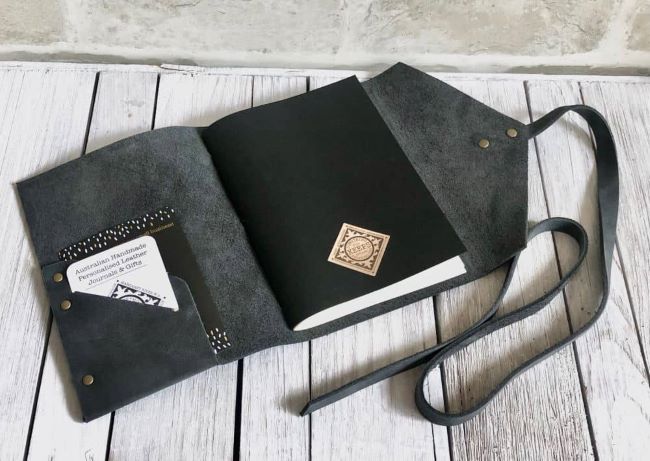 What to Consider When Choosing a Leather Journal
1. Type of Leather
Various leathers have unique characteristics. Our handmade journals are handcrafted from genuine New Zealand and Australian leather. The type of leather you choose depends on the appearance, feel, and durability you prefer.
The two types of leather we use are:
Crazy Horse — Combination of tanned Buffed bovine sides with a milled and wax finish creating a lovely vintage appearance. Crazy Horse gets a pull-up/ burnished effect when rubbed. Each piece of this leather is completely one-of-a-kind and rich with character. Available in a creamy, classic brown colour or stormy grey colour.
Raw Cacao — A buffed, top grain bovine leather, with a nubuck finish and warm brown colour.
2. Size
A larger leather journal is best for sketches or serious writers, while smaller journals are more convenient for:
Travelling with
Outdoor journalling
Writing down ideas on the go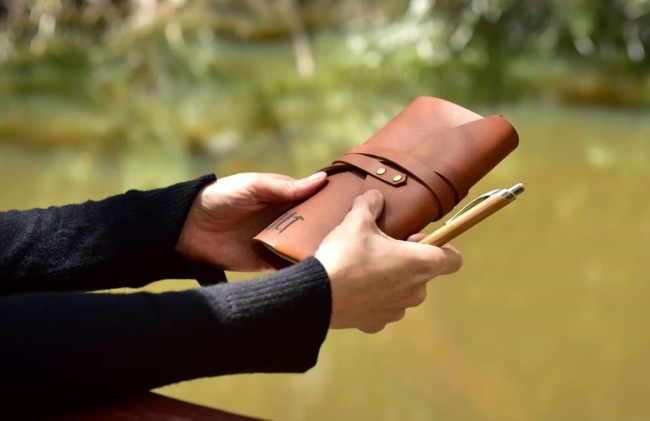 3. How Many Pages Will You Need?
Refillable leather journals are convenient and versatile, allowing users to switch out the paper and re-fill the journal as often as needed. Between leather's natural durability and the option to refill pages, one journal could last a lifetime.
4. Closure Style
When it comes to leather journals, the small details matter too. Our journals are fully customisable, including the closure. Of course, the choice comes down to your preference as both styles are equally functional and beautiful.
Choose a snap-style closure if you want quick access to your journal and an organised feel. Our wrap style closure features an elegant, secure tie closure that adds an extra special touch to your journal.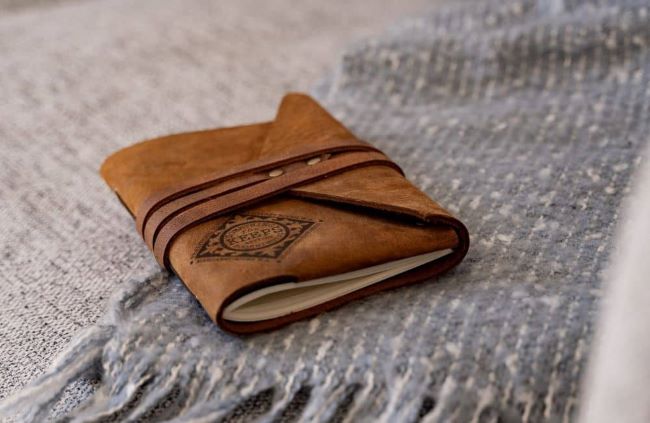 5. Paper Quality
Leather journals feature a variety of paper materials and quality. Our journal can be customised with various inserts, including blank, lined, grid, and more. If you need help deciding which inserts to choose for your journal, please do not hesitate to reach out to us for recommendations.
6. Guarantees
A reputable leather journal company will stand behind the quality of its products. The satisfaction of our customers is of utmost importance to us. We offer a money-back guarantee on all of our leather products and strive to ensure you are completely satisfied with your order.
Ideas for Using Your Leather Journal
A leather journal can be used for anything from recording your favourite travel destinations and memories to keeping track of a to-do list.
Leather journals are also a thoughtful gift for loved ones, colleagues, or family.
Personalised leather journals make a perfect gift for:
For more ideas on how to use your personalised leather journal, check out our Guide to Using a Journal.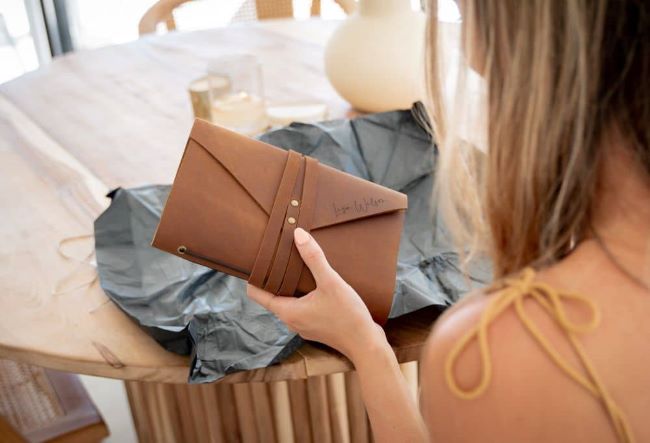 About Our Personalised Leather Journals
We strive to offer the best leather journals in Australia. Each of our journals is created from the highest quality, genuine leather and a variety of features, including:
Your choice of leather finish
Card slots or internal pockets
Thick, durable covers
High-quality paper
Refills available (once the journal is full, the pages can be removed, re-tied, and a new book block inserted)
Options to personalise with up to five engravings of your choice
Elegant gift-wrapping
Unique characteristics, including growth marks, scars, and natural variations make each leather piece one-of-a-kind
Want to Learn More About Our Leather Notebooks and Journals?
The possibilities for using your leather journal are never-ending. Jot down your thoughts, keep your to-do list organised, write down inspiration or ideas, keep track of your favourite new recipes or restaurants, or spoil someone with the gift of a high-quality, durable leather journal.
Our step-by-step design and ordering process makes it easy and fast to create your personalised leather journal. Each handmade leather journal or notebook is handcrafted from genuine Australian or New Zealand leather and can last for a lifetime when cared for properly. Please contact us with any questions or for personalised product recommendations.